---
Troy Helmet
£125.00


Beautiful Troy Helmet the style worn by warriors at the Battle of Troy.
Troy Ἴλιον was a city, both factual and legendary, located in northwest Anatolia in what is now Turkey, southeast of the Dardanelles and beside Mount Ida. It is best known for being the setting of the Trojan War described in the Greek Epic Cycle and especially in the Iliad, one of the two epic poems attributed to Homer.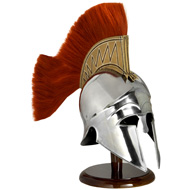 A new city called Ilium was founded on the site in the reign of the Roman Emperor Augustus. It flourished until the establishment of Constantinople and declined gradually during the Byzantine era.
Dimensions: 50 x 20 x 28cm