---
"Women left behind four" by Penny Warden.
£7,500.00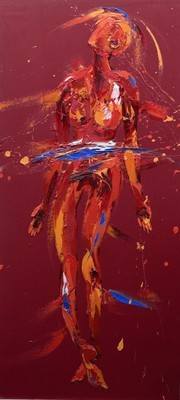 "Women left behind four" by Penny Warden.
We have had the rare opportunity to sell one of Penny Warden's incredible paintings which rarely come onto the open market!! A very rare opportunity to acquire an original Oil painting

!!

These paintings have been based on the commission Penny did for Blackburn Cathedral. Penny wanted to develop these figures into a more feminine direction. They speak of the suffering of women who are so often the "ones left behind". They are her expression, for example of the Jewish women who on arriving at the death camps were made to choose between their children. They are the women whose son's and husband's go to war; the women who watch their children die of starvation. This is figurative work that has emerged from her imagination and is not based on human models or photographs. The figures are deliberately distorted and twisted. Penny approaches each one with as much feeling and empathy as possible.

!!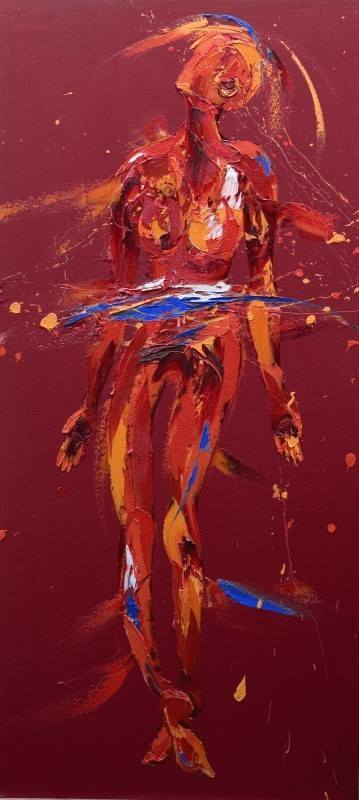 Measurements; Height 4 ft 3 inches x 2 ft . (130 cms x 60 cms)

Oil on Canvas...........
Ref only; asgard-arts.com
PENNY WARDEN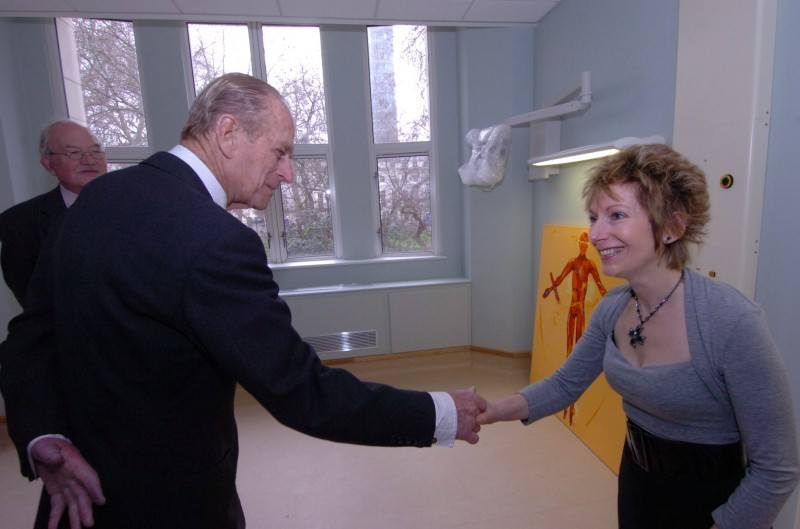 Penny Warden with HRH The Duke of Edinburgh.
"TOMORROWS HISTORY TODAY"
Penny Warden is a renowned artist known for her significant public commissions in the UK. Penny paints her images with a maximum of spontaneity and energetic expression. This involves risks and accidents but Penny works in partnership with the oil paint, exploiting these in order to forge a new vibrant image out of a familiar well-known form.
Penny Warden began to paint at a very early age and indeed was highly commended for her work by the Royal Drawing Society when only 12 years old. Despite the protests of her art teachers she did not continue in her art studies after leaving school but pursued various careers in the city of London and finally in teaching after graduating in 1984 with a degree in Theology from Westminster College, Oxford. However, Penny continued to paint, even when heading a Religious Studies Department and raising two children. Finally after beginning a degree in Fine Art in the late 1990's she became a full time artist in 2001.
Penny Warden is a petite 5ft woman, but her enormous energy is exceptionally revealed in her work. Kandinsky once said "Colour is the keyboard. The eye is the hammer. The soul is the piano, with its many strings. The artist is the hand that purposefully sets the soul vibrating by means of this or that key." He believed that colours have a direct influence on the soul. Penny Warden's unique form of action painting, by means of vibrant colours splashed and spattered in an arbitrary though deliberate manner achieves this self-same bonding with the soul. When seeing Penny's paintings for the first time one is struck by the energy and vibrancy of her work. Colours jump out of the canvas conveying movement and emotion, swirled together in an exquisite spectacle of pure artistry. Her distinctive style of 'gestural abstraction' has indeed attracted attention from all around the globe.
After exhibiting a series of deeply poignant and personal images – "The Phoenix Paintings" in a solo exhibition in over ten Cathedrals in the UK, as a 'rising artist,' Penny was chosen to exhibit her work in St Paul's Cathedral in 2004 alongside Tracy Emin, Bill Viola, Craigie Aitchison, Maggie Hambling and other prominent British artists, in an innovative and exciting national exhibition called "Presence: Images of Christianity for the Third Millennium."
In March 2005 Penny launched "a major project of national significance" in Blackburn Cathedral, Lancashire, England. Called "The Journey" it consists of the permanent display of 15 6ft paintings of The Stations of the Cross depicting Christ's journey of condemnation, death and resurrection and is "probably the most significant contemporary artistic commission in any church in the land" Canon Chris Chivers in a letter in The Independent.
This graphic journey, characterised by changing colours and a series of 'divine dancers', arouses passions deep within the soul. "When you have walked the journey in Blackburn Cathedral you will leave having discovered a little more of what it means to be human in an age where inhumanity must not be allowed to win" Canon Chris Chivers. These almost life-sized masterpieces are a powerful depiction of suffering. They not only convey the suffering of Christ but also the desperateness of human anguish and despair often experienced in "feelings of abandonment and alienation." The contorted yet beautiful figures connect with our humanity evoking profound sentiments.
Nicola Currie writes in Anglican-Episcopal World (Trinity 2005)
"In these extraordinary paintings the viewer is free to engage with the image and, through their sense of movement, invited in to join with Christ's journey. The theologian John Macquarrie speaks of art as: "Something like a revelation. What is revealed has been there all the time, but it has gone unnoticed in our humdrum everyday experience. It needs the sensitivity of the artist to bring it to light, so we notice things for the first time." Penny Warden's pictures are both striking and sensitive, encouraging the viewer to notice what she has seen. By exploring a traditional subject in a radical and contemporary way she presents the familiar to a Christian audience in an unfamiliar way and engages with believers and non-believers alike."
In 2006 Condoleezza Rice the US Secretary of State, and the British Foreign Secretary Jack Straw, two of the most powerful politicians in the Western world, followed a spiritual journey through Blackburn Cathedral, meeting Penny, viewing the 15 radical paintings and praying for peace beneath one of her paintings.Condoleezza called it "a deeply moving experience".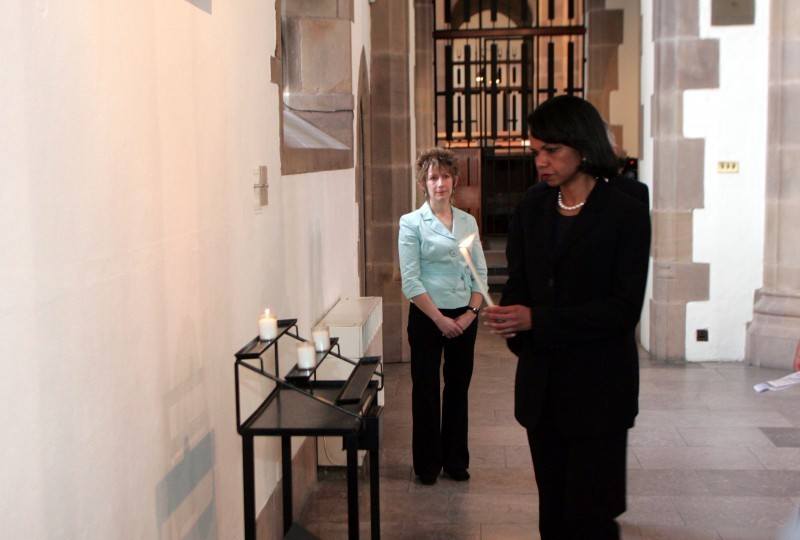 This permanent exhibition has won accolades from Archbishop Desmund Tutu "wonderfully creative- The Journey has such considerable healing potential" and Rowan Williams, Archbishop of Canterbury "outstanding and very moving work. I hope it will speak too many." With sponsors such as Blackburn Rovers Football Club and now mentioned in Hudson's Heritage this "extraordinary exhibition will be seen by generations to come."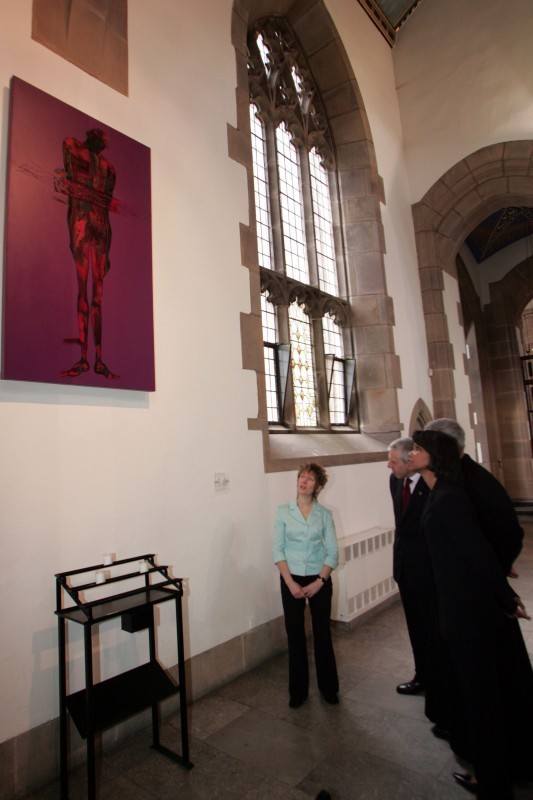 www.thejourney.me.uk
In 2007 Penny was introduced to Prince Philip after donating a large painting to one of his charities. St Luke's Hospital for the Clergy.
Recently Penny was commissioned by Trinity Hospice in Blackpool for 8 paintings for their chapel. Both these significant commissions can be seen on the BBC website.
Penny's paintings have featured in a number of national magazines and international books and her work is currently being used in a major publication by Cambridge University. Also from Cambridge Trinity College Choir (Stephen Layton conductor) requested Penny's image of The Crucifixion at Blackburn for their latest disc of Pawel Lukaszewski (b 1968) Choral music. A disc of seductively beautiful spiritual music from Poland.
Penny has been part of several consultation groups at Windsor Castle on "Human Creativity and the Arts" is a frequent guest speaker at conferences all over the UK and has been interviewed several times on BBC Radio.
"A True Original" Ivor Braka London Art Dealer





GUARANTEED TO BE 100% ORIGINAL AND GENUINE WITH C.O.A.


Pay instantly with your debit or credit card through PayPal.
Pay instantly with your debit or credit card through PayPal.