---
"Girl with Guitar" by Rinat Baibekov (now sold 8/1/12)
£4,500.00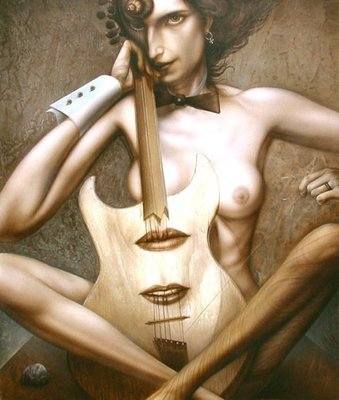 INCREDIBLE ORIGINAL ABSTRACT PAINTING "Girl with Guitar".

BY THE SUPER ARTIST RINAT BAIBEKOV. This truly beautiful surreal Francis Baconesque painting !!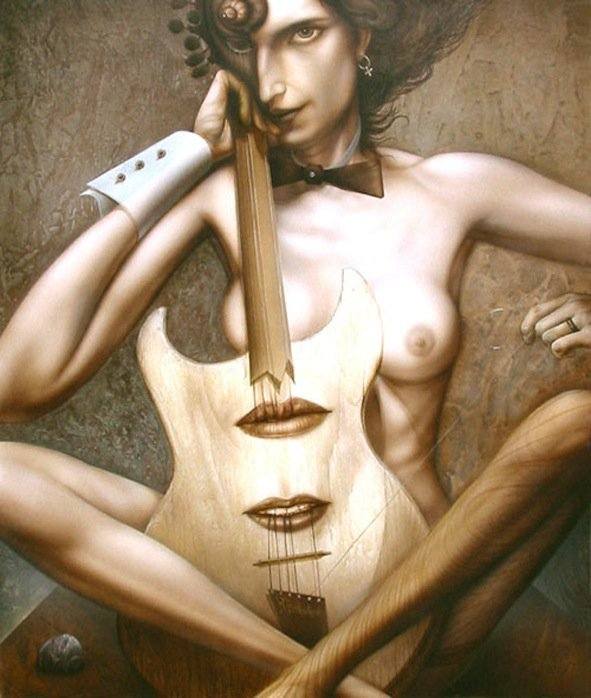 Measurements height 31 1/2 inches by 39 1/2 inches. (80 cms x 100 cms)
Acrylic on paper
Ref only; asgard-arts.com



Rinat Baibekov I started drawing at a young age and very much love it to this day.
Looking back I can safely say that Fine Art has become my primary language. My dialogue with the world is predominately a visual one.
I believe that every individual has the potential to create. As a citizen of planet Earth I see our planet as a perfect unique example of Art creation. We have been given a magnificent universe with all its stars to choose and create our own world.

Utilising knowledge and experience, one can masterfully implement the rules of composition, proportion, colour, tone, different techniques, effects, style to be considered a professional artist, yet in the end remain but only a craftsman,where there are many.

To become a Creator/ Artist in the bigger sense one must reach for something grander, beautiful, new, which I strive to achieve everyday.
Where does one gather inspiration? For me, inspiration comes from the working process, the search for ideas in all that surrounds me, in this wondrous world with all its multi-facets.

I take my inspiration from ancients, philosophies, theological ideas, all arts, history and people, as well as the grand teacher itself Nature . My father also an artist taught me that If you do not have a teacher, go to Mother Nature.

Nature's richness is beyond our grasp, every new look revealing more and more."

Born in Kazan (Tatarstan,Russia) in 1962, Rinat Baibekov comes from a family of painters.

He began sketching and painting at a very young age attending full time art courses alongside his primary schooling.
After completing high-school, Rinat was accepted to the Kazan College of Fine Art and Design.

This in turn was followed by the Kharkov Academy of Fine Art and Design where he majored in Monumental Art-(Public Art).

After living and working as an artist in St.Petersburg (Leningrad) until 1990, Rinat moved to Toronto, Canada.

In 1997 Rinat once again crossed the ocean this time to the United Kingdom where he eventually settled.
GUARANTEED TO BE 100% ORIGINAL AND GENUINE WITH C.O.A.

Powered by eBay Turbo Lister


Pay instantly with your debit or credit card through PayPal.