---
"Maelstrom" by Pam Obbitson
£3,000.00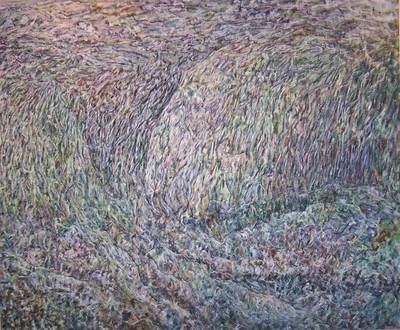 "Maelstrom" by Pam Obbitson

Pam Ibbotson studied painting at Sheffield Hallam University, graduating in 1987 with a First Class Honours Degree in Fine Art. She was elected a member of the Manchester Academy of Fine Art in 1989 and has received numerous awards, including the Manchester Academy Major Award.

She has exhibited widely, including the Royal Academy of Art Summer Exhibition, Bonhams, London 'Painting Today' and the Quaker Gallery, London (solo).

Her work has been acclaimed by the Guardian, where it was compared to
'Van Gogh's almost visionary sense of the underlying rhythms of nature'
Robert Clark


Artist's statement

My paintings gain their inspiration from the landscape of the Derbyshire Peak District. They vary from small works in gouache to large canvases.

Although colours, textures and forms inherent in the landscape are an important factor, my work tends to be suggestive of natural form, rather than depictive.

As such, it can be open to varying interpretation and so is, I feel, stimulating to the imagination. The landscape acts as a catalyst for the expression of what I have described as an 'inner painted world'.