---
"Royal Charles on the Medway" by David Aldus (now sold 21/8/11)
£7,200.00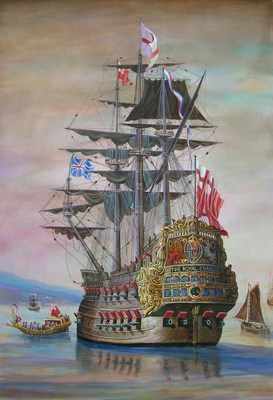 HIGH PRESTIGE EXHIBITION STANDARD OIL PAINTING "The Royal Charles on the Medway" . BY THE FABULOUS ARTIST DAVID ALDUS. This amazing new painting of the flagship of Oliver Cromwell originally called the "Naseby". The ship was renamed the Royal Charles during the royalist restoration under Charles II. The painting illustrates the Royal barge with King Charles II visiting his new battleship. The painting is decorated in the superb outlandish style of Baroque or Rococo!!! If you look closely at the bow of the Royal barge there is a Golden statuette of a girl with arms outstretched she is holding aloft a pink scarf which is catching the wind- Another extravagent flourish of the Baroque style just like the stern of the main Royal Charles ship!!!



"Royal Charles on the Medway" by David Aldus
The painting illustrates the Royal Charles in 1667 just before it was captured in the Medway river by Dutch warships. As Royal Charles she took part in the Second Anglo-Dutch War. In 1665 she fought in the battle of Lowestoft under the command of the Lord High Admiral, James Stuart, Duke of York, her captain being Sir William Penn (father of the famous William Penn). During that battle she probably destroyed the Dutch flagship Eendracht. In 1666 she participated in two further actions, the Four Days Battle and the defeat of Admiral Michiel de Ruyter in the St James day battle. When captured the Dutch took the Royal Charles back to Holland but was little use as she drew too much water for the shallow dutch waters. Her metal stern piece, showing the English coat of arms with a lion and unicorn along with the white ensign, is now on display in the Rijksmuseum in Amsterdam!!


Highest price received for one of his paintings is £14,000. "Lot's Wife". Absolute investment opportunity! Measurements height 36 inches by 24 inches. Oil on Canvas ..............
Wikipedia; david aldus davidaldus.com


David Aldus the artist has exhibited with the Royal Society of British Artists (R.B.A); the Royal Institute of Oils (R.O.I) and the Royal Society of Marine Artists (R.S.M.A) He has been nominated twice as a finalist in the Garrick/Milne prize exhibition held at Christies LONDON. His work has been selected for the Discerning Eye Exhibition by Art Critic, Edward Lucie Smith, where all his work was sold. He also sold all his work at the Lambeth Palace when exhibiting under the auspices of the Royal Society of Marine Artists. Highest price received for one of his paintings is £14,000. "Lot's Wife". This painting was the same size as Turner's Hannibal crossing the Alps 5 foot by 8 foot. David Aldus also sold "A tribute to the people of Malta" that sold for £10,000. The painting was received by the President of Malta Dr Ugo Mifsud Bonnici and is now in the museum of Malta in Valletta.. Also the painting "A Tribute to the people of Malta sold for £10,000. The same painting was the subject of a congratulatory letter from Queen Elizabeth II. Lord Lewin, Admiral of the Fleet also sent a letter of congratulations.He has held one or two-man shows at Knightsbridge; South Kensington; Windsor and numerous other venues. He has exhibited in Westminster Central Hall; Royal Festival Hall;Birmingham's Royal British Artists exhibition;Victoria Art Gallery, Bath; Rooksmoor Gallery, Bath; London Guildhall; Mann Island, Liverpool; Christies, the London Auction House, etc. GUARANTEED TO BE 100% ORIGINAL AND GENUINE WITH C.O.A 100% GOLD POWERSELLER