---
"Sympatico" by Leon Goodman (now sold 17/7/11)
£850.00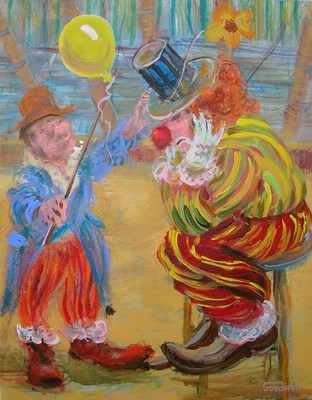 BEAUTIFUL ORIGINAL OIL PAINTING ON CANVAS "

Sympatico

". A truly stunning painting - Really needs to be seen in the flesh!! A Clown, distraught, collapes back after being told he is to be sacked and the small Clown tries to console his friend!! The small Clown's face is pure Genius!! Leon Goodman said that this is his best example of expressionism an art form rarely painted these days!!! It's form is profoundly portayed in Edvard Munch's "The Scream"!!!! Goodman has personified the universal feeling of despair and sadness when facing redundancy. The seated clown is twisted into a knot of despair- His back is bent, his legs are twisted and in the background the Circus tent's supporting poles power down onto the two clowns!!! He has just received his redundancy notice. His friend is tilting up the Clown's top hat so that he can see his face to sympathise!! The little friends face is a masterpiece of Sympatico!! In the tradition of expressionism Goodman has used his brush to keep the features unfocussed, yet they magnificently convey his genuine concern!!



.........BY THE SUPERB LEON GOODMAN WHO IS AN ACCOMPLISHED ARTIST HAVING BEEN A FINALIST AT THE GARRICK-MILNE PRIZE.HE HAS MANY OF HIS WORKS SOLD AT CHRISTIES.
Measurements height 20 inches by 16 inches. Oil on Canvas .............
Wikipedia; leon goodman
Leon Goodman
has been a professional artist for the majority of his working life. His work has been sold at The Omell Gallery, Ascot, as well as Christies, the fine art auction house in London. Many of his works have sold to the U.S for thousands of pounds. (Please check out www.leon-goodman.com ) Since seeing his work, Risborough Art Gallery have made him a regularly featured artist. Leon's philosophy is that it is not the delineation of the subject which is important, but its fragmentation. He believes a strictly photographic image does not allow the viewer to participate in the painting. If the image is fragmented, the viewer can imagine for himself the missing parts and involve himself in the creation of the whole image. The viewer has seen his own interpretation of the fragmented images; the next viewer may see something different.
GUARANTEED TO BE 100% ORIGINAL AND GENUINE WITH C.O.A.
Pay instantly with your debit or credit card through PayPal.