---
"Ragnarok- The End" by Leon Goodman (now sold 10/3/12)
£3,200.00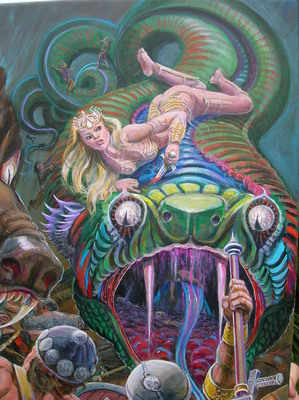 Stunning new Viking painting "Ragnarok- The End". There are accounts in the Bible's Old Testament of a "jewelled serpent". Goodman has built on this, painting Jorgmungand with a jewelled head, combining beauty with the horror of the serpent's gaping mouth which reveals Vikings dying in its bubbling venom - the same venom that was destined to kill Thor.

As in all great defeats, Ragnarok's gigantic wolf, Fenrir, and the world-circling Jormungand have laid waste to Odin's armies, and are now coming to kill the leaders, Odin and Thor. Odin and Thor are side by side in the painting, making a last charge!!!

Thor eventually killed Jorgmungand, but died covered in the monster's venom. Odin was swallowed by Fenrir!!!! When Odin and Thor made their last charge, it can be seen that Goodman has depicted them treading on their dying comrades in order to get at the two monsters.

This tragic necessity of war is drawn from factual accounts of many battles including the Scots' defeat at Culloden. So many of the Scots had been killed by English cannon-fire that the remaining warriors' last fatal charge had to be made treading over their dying and dead comrades. It seems only the brave die young!!
........................................... BY THE SUPERB GOODMAN WHO IS AN ACCOMPLISHED ARTIST HAVING BEEN A FINALIST AT THE GARRICK-MILNE PRIZE.HE HAS MANY OF HIS WORKS SOLD AT CHRISTIES.
Measurements

;

36 inches x 24 inches. Oil on Canvas .

Ref only; leon-goodman.com Wikipedia; Leon Goodman asgard-arts.com
Leon Goodman

has been a professional artist for the majority of his working life. His work has been sold at The Omell Gallery, Ascot, as well as Christies, the fine art auction house in London. Many of his works have sold to the U.S for thousands of pounds. (Please check out www.leon-goodman.com ) Since seeing his work, Risborough Art Gallery have made him a regularly featured artist. Leon's philosophy is that it is not the delineation of the subject which is important, but its fragmentation. He believes a strictly photographic image does not allow the viewer to participate in the painting. If the image is fragmented, the viewer can imagine for himself the missing parts and involve himself in the creation of the whole image. The viewer has seen his own interpretation of the fragmented images; the next viewer may see something different.
GUARANTEED TO BE 100% ORIGINAL AND GENUINE WITH C.O.A.