---
"The Mayflower- Dawn of the United States of America" by David Aldus (now sold 12/11/16)
£8,500.00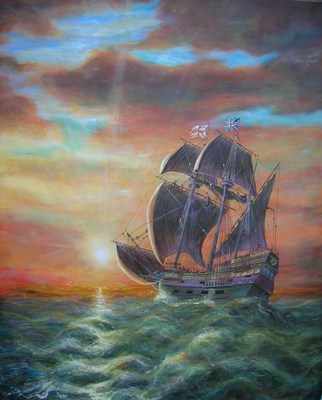 MAGNIFICENT ENORMOUS MASTERPIECE HIGH PRESTIGE EXHIBITION STANDARD OIL PAINTING

"The Mayflower- Dawn of the United States of America."
"The Mayflower- Dawn of the United States of America" by David Aldus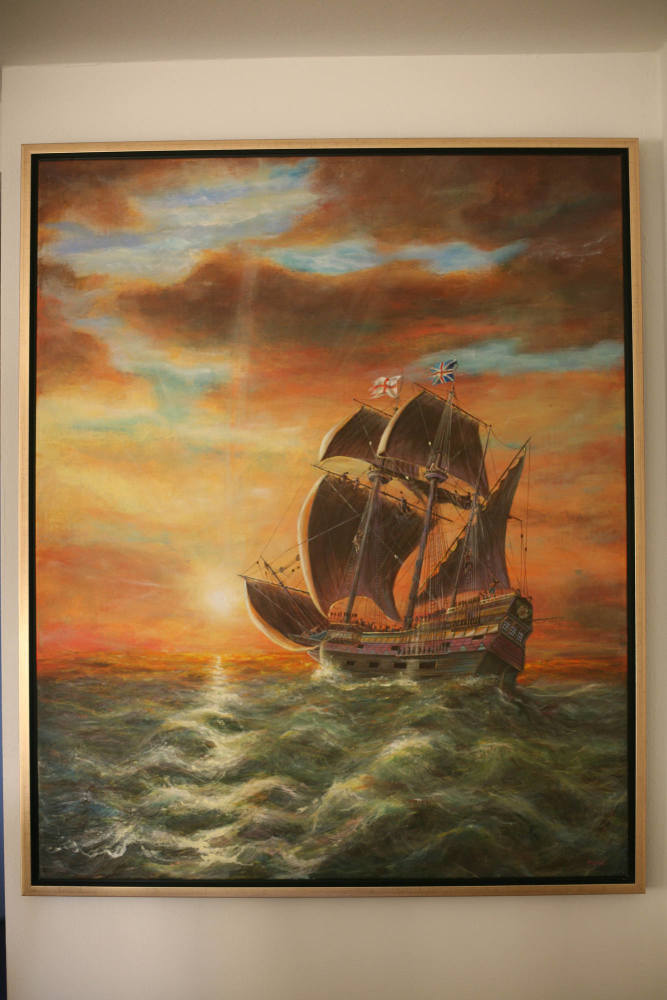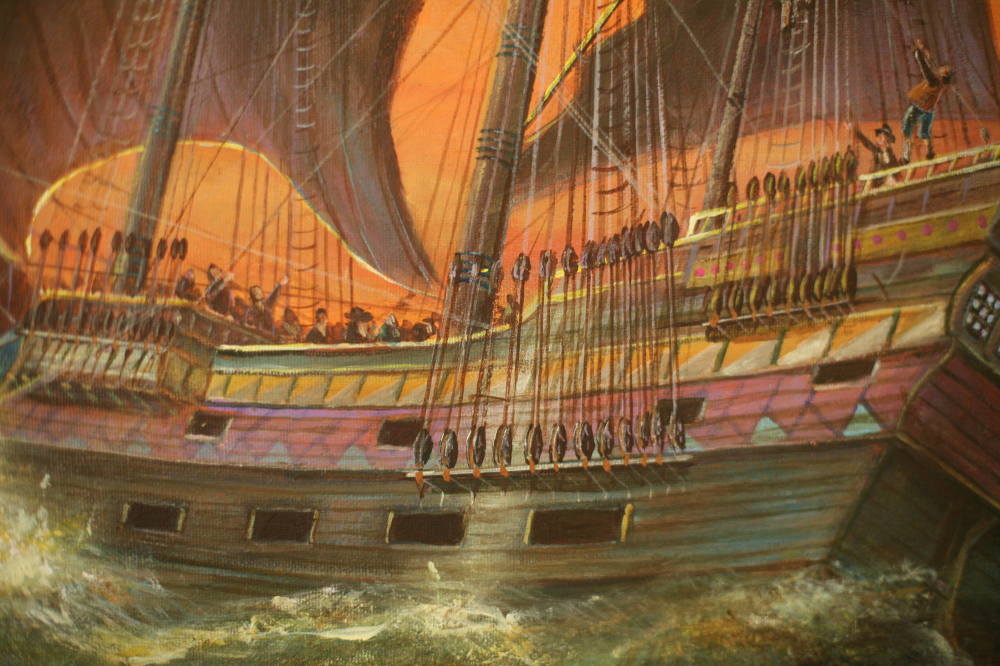 There are no records of the Mayflower's true appearance.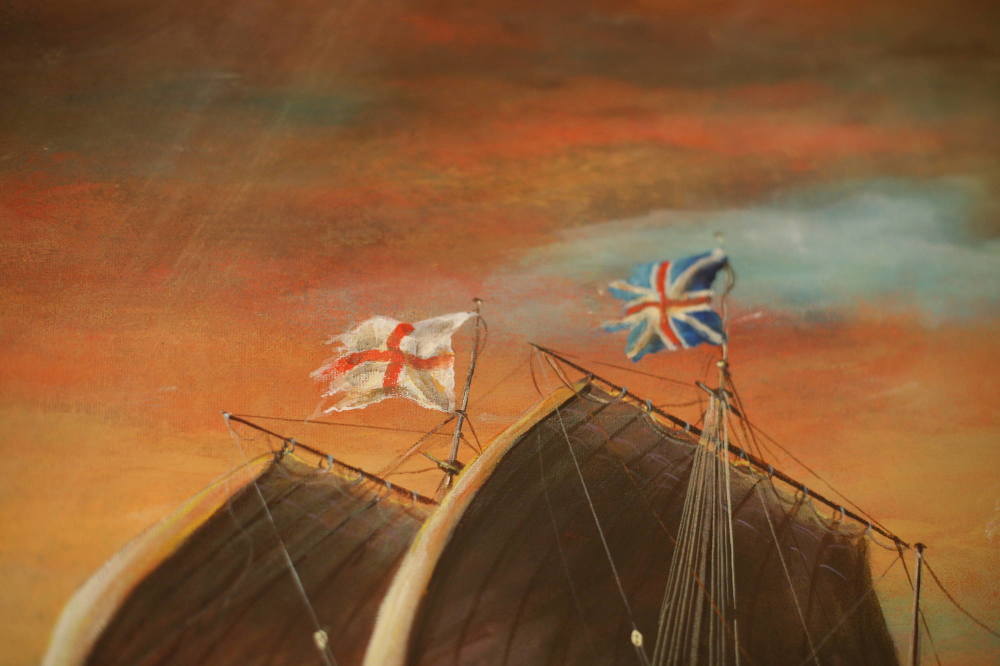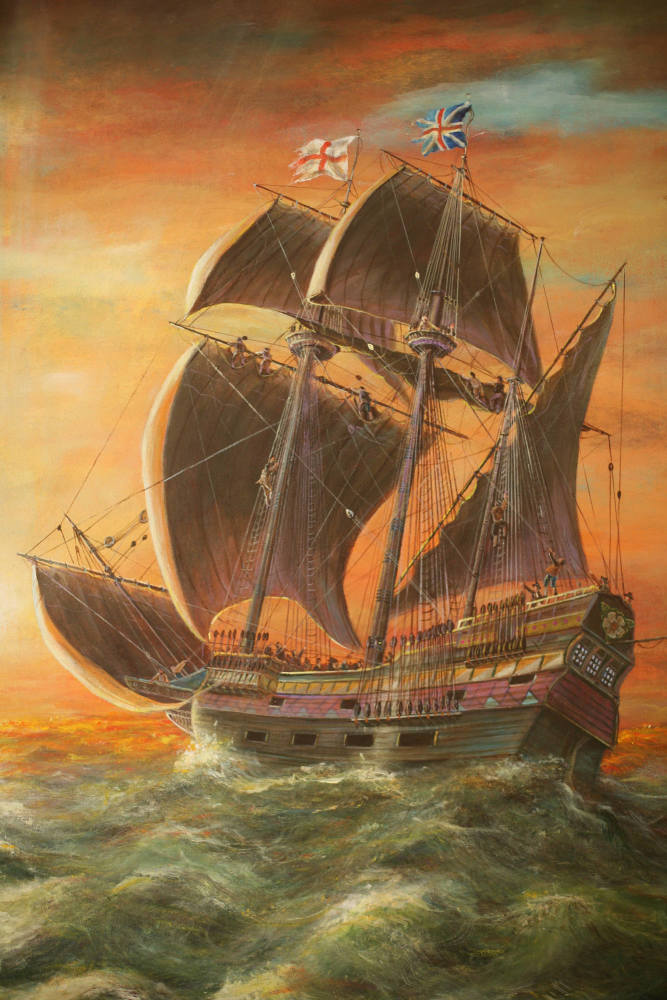 Originally, it was a merchant ship with the usual fashionable decorations on its hull. After purchasing the Mayflower the Puritans would not have had the necessary capital to alter the ship. They would have felt nothing but relief to have found a vessel, though second-hand, that was of sufficiently robust build to take them across the Atlantic. Because of their religious beliefs they would have not replenished the decorations, preferring instead to let them fade, believing in simplicity in all things. Another factor forgotten by modern artists is that the journey across the Atlantic would have been wearing on all exterior parts of the ship, fading colours, including the flags which would also be torn and weatherbeaten. The painting depicts the flags torn, and decorations faded.
Some paintings show the Mayflower as having no portals in its flanks. This has to be an error. As a Merchant Ship in its previous role, it would have had portals along its flanks, enabling the merchantmen to fire cannon against marauding pirates.
It is also worth pointing out that the Pilgrim Fathers would have had to man the sails themselves. Everyone aboard knew they were not going back, they were on a one-way ticket to an unknown land, and it was for this reason no British sailor would have agreed to accompany them. With this in mind, Aldus, the artist, has portrayed the more physically fit Pilgrims among the ship's rigging, securing the mainsales. On a humorous note, several of the Pilgrims on deck can be seen gesticulating to those up on the rigging, giving unwanted advice on how the terrified Pilgrims should go about their extremely hazardous tasks. Everyone's an expert on matters they know nothing about!
In spite of terrific hardships suffered by all those on board, the painting displays hope ahead as the sun rises over the ocean, its rays vaulting to the heavens above, signalling God's wish for their future success. A lone seagull can be seen, a sign that land is not far away.
History records how well that tiny vessel succeeded in carrying the Pilgrim fathers to their historic destiny, establishing the largest democratic country in the world – THE UNITED STATES OF AMERICA.
.......... Highest price received for one of his paintings is £20,000 "Armada under attack from the English fleet" £14,000. "Lot's Wife". Absolute investment opportunity! ) Official Bloomberg 3/6/10 Hard assets like Gold and Fine Art sort after as investments!
Measurements;
4 foot x 3 foot.
Oil on Canvas ..............


Wikipedia; david aldus davidaldus.com


David Aldus the artist has exhibited with the Royal Society of British Artists (R.B.A); the Royal Institute of Oils ( R.O.I ); and the Royal Society of Marine Artists (R.S.M.A) He has been nominated twice as a finalist in the Garrick/Milne prize exhibition held at Christies LONDON. His work has been selected for the Discerning Eye Exhibition by Art Critic, Edward Lucie Smith, where all his work was sold. He also sold all his work at the Lambeth Palace when exhibiting under the auspices of the Royal Society of Marine Artists. Highest price received for one of his paintings is £14,000. Highest price received for one of his paintings is £14,000. "Lot's Wife". This painting was the same size as Turner's Hannibal crossing the Alps 5 foot by 8 foot. David Aldus also sold "A tribute to the people of Malta" that sold for £10,000. The painting was received by the President of Malta Dr Ugo Mifsud Bonnici and is now in the museum of Malta in Valletta. The same painting was the subject of a congratulatory letter from Queen Elizabeth II. Lord Lewin, Admiral of the Fleet also sent a letter of congratulations.He has held one or two-man shows at Knightsbridge; South Kensington; Windsor and numerous other venues. He has exhibited in Westminster Central Hall; Royal Festival Hall;Birmingham's Royal British Artists exhibition;Victoria Art Gallery, Bath; Rooksmoor Gallery, Bath; London Guildhall; Mann Island, Liverpool; Christies, the London Auction House, etc. GUARANTEED TO BE 100% ORIGINAL AND GENUINE WITH C.O.A 100% GOLD POWERSELLER