---
"Woden's Last Stand at Ragnarok" by Leon Goodman (now sold 31/5/11)
£5,200.00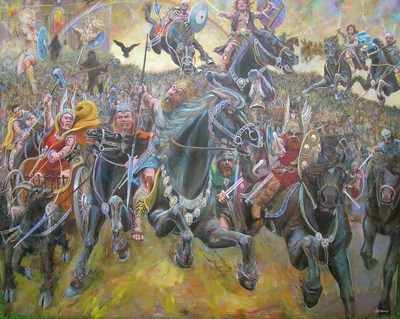 A historic rare opportunity for Asgard Arts to offer this stunning huge new Viking painting. "Woden's Last Stand at Ragnarok- The Final battle". This stunning new painting captures the end of the world- Ragnarok.



Valhalla burns, and the rainbow bridge is aflame, as Odin's massed armies issue from its flame-engulfed entrance to fight their last battle against the monsters who have destroyed their heaven.


Odin or Woden leads the attack, though he already knows he and his warriors are doomed to die. They face monsters so gigantic, one of them, Jormungand, can encircle the earth with its body.


To give courage to his men, Odin has carved magic runes on his spear which, if interpreted, spell ''Death''!!! .


On his far left, nearest the edge of the left hand side of the painting, rides Thor-The Thunder God, still insisting on using his goats to pull his chariot. He is facing certain death and wields a sledge hammer as his chosen weapon.

The Valkyries will no longer need to carry fallen Vikings to Valhalla. They too will perish on this terrible day. But still the Valkyrie on the upper left of the painting, points towards the enemy, her face failing to hide the natural fear she's feeling. Though lightly armed, they will enter battle beside the heroes they helped resurrect, dying beside them.


Another unusually poignant note is struck with the two giants holding there crude clubs. Goodman has deliberately painted them in rough style, conveying their massive bulk and coarse features. Even so, they show similar courage to their smaller Viking brethren. So few in number, they march on foot, fearful yet moving forward resolutely. Their size will make them an easy target as they stand out among their diminutive comrades.


There is determination written on many of the Vikings' faces as they advance. The same grim determination can be seen on newsreel films of the First and Second World War soldiers as they march towards the enemy. And yet it is a fact that Valhalla, Odin and other heroes of the Viking sagas are remembered to this day, giving inspiration to men who have to face death in battle, whereas the names of the grotesque monsters who were victorious are recorded only briefly in the Viking sagas.


Immortality belongs to Odin and his Viking warriors, their great feats kept alive by art such as 'The Ride of the Valkyries', and even this painting which records this epic day against insuperable odds in paint which is guaranteed never to fade.....
........................................... BY THE SUPERB GOODMAN WHO IS AN ACCOMPLISHED ARTIST HAVING BEEN A FINALIST AT THE GARRICK-MILNE PRIZE.HE HAS MANY OF HIS WORKS SOLD AT CHRISTIES.
Measurements
;

4 foot x 5 foot. 1 metre 22 cms x 1 metre 53 cms. Oil on Canvas .

Ref only; leon-goodman.com Wikipedia; Leon Goodman asgard-arts.com
Leon Goodman

has been a professional artist for the majority of his working life. His work has been sold at The Omell Gallery, Ascot, as well as Christies, the fine art auction house in London. Many of his works have sold to the U.S for thousands of pounds. (Please check out www.leon-goodman.com ) Since seeing his work, Risborough Art Gallery have made him a regularly featured artist. Leon's philosophy is that it is not the delineation of the subject which is important, but its fragmentation. He believes a strictly photographic image does not allow the viewer to participate in the painting. If the image is fragmented, the viewer can imagine for himself the missing parts and involve himself in the creation of the whole image. The viewer has seen his own interpretation of the fragmented images; the next viewer may see something different.
GUARANTEED TO BE 100% ORIGINAL AND GENUINE WITH C.O.A.
Pay instantly with your debit or credit card through PayPal.