---
"Le Tromboniste" by Leo Meiersdorff (now sold 6/9/14)
£3,000.00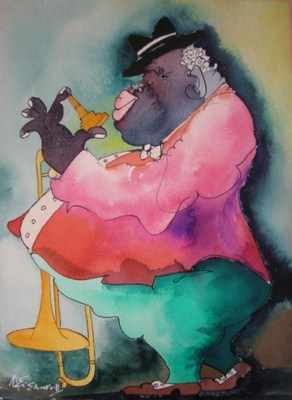 Beautiful rare original painting "Le Tromboniste" By Leo Meiersdorff. (1934 - 1994) Said to be "The most promising young artist of the postwar German avant guard"

A rare opportunity to buy a 100% original and signed Leo Meiersdorff painting!! This painting comes from a collector of Leo Meiersdorff with full provenance!! Leo Meiersdorff's are widely sought after and even the Swedish Royal Family are avid collectors. When Meiersdorff attended the international children foundation exhibition in Stockholm (for which he designed posters) he met the King and Queen of Sweden and they turned out to be collectors of his work and he was invited to the palace!

"Le Tromboniste" by Leo Meiersdorff
Meiersdorff was a life long friend of Duke Ellington and Miles Davis so when Miles Davies received his lifetime award at the Grammy's, one of Meiersdorff paintings was blown up and projected on a background screen. During his lengthy career, Leo designed over 400 record covers and sold several hundred thousand posters. There are numerous restaurants and bars around the globe particularly in the States which have nothing else but his art on their walls. People say, seeing his culinary images makes their mouth water and viewing his musicians, they can hear them playing. As with every big artist, he had his own unique style and can easily be distinguished from other artists trying to copy his work! Leo Meiersdorff's lines in his paintings are without interruption or hesitation. His fluidity of rendition is masterly!! There is no muddying in his watercolours whatsoever and yet he manages to render shadows and lights with such purity!!!!

Meiersdorff equals Egon Schiele with his line drawing and his purity of colour is on a par with Schiele's finest work. He manages to coalesce a light colour with a dark colour of the same hue successfully without causing any muddying whatsoever. The juxtaposition of one colour against a highly similar colour is considered by Jean Auguste Ingres to be the most beautiful effect in the application of paint!
Leo Meiersdorff's watercolours could only have been applied once which is known, by the Art cognoscente as "Sudden death"- Only a master can achieve these pinnacle standards
Measurements 16 inches x 12 inches

!! Watercolour on paper!!



Investment
" An Amazing Blue Chip Investment Opportunity to Acquire an Original Leo Meiersdorff Painting" ..


Invest in one of our paintings, rather than risky bank investments, where you can actually touch your investment. Take pleasure in looking at it and watch it appreciate in value over the years!! Remember we guarantee every painting sold is unique, original e.g only one of it's kind in the world!!!

Scarcity alone guarantees the investment !!!!

Asgard Arts offers works of art which will not only look fantastic in your home or offices (One Investment Bank in particular has purchased paintings from us for their offices see Bull paintings) but will also be a sound financial investment for the future. Art has long been regarded as a strong and safe investment. Investment in paintings was discussed recently on Bloomberg television as a sound investment as a hard asset like Gold, Platinum Silver etc. Also Ellen Kelleher a personal finance journalist for The Financial Times recently wrote an article recommending the purchase of Art, particularly in the $500 - $50,000 range as a sound long term investment with an impressive current average annual increase of 9.7 percent. Go to Latest Art news on Asgard Arts and see Hang your investments on the wall by Ellen Kelleher Published October 22 2010 in the Financial Times.

Leo Meiersdorff was born on December 14th, 1934, in Berlin-Charlottenberg, Germany.Meiersdorff grew up at the obscure family estate in East Prussia, where he discovered his love fore music at a very early age. He practiced Beethoven and Mozart on the old family piano with so much passion and enthusiam that everybody foresaw his future as a concert pianist
All that changed however, when after the war he was sent to Berlin to study art and classical music at the academy – and for the first time he heard on the armed forces network radio the music of the Americans: JAZZ. He became fascinated with its sound and rhythm; Ludwig and Amadeus went out of the window as Leo switched to jazz piano and trombone. While during the day he attended his art classes studying the German expressionist masters, his evenings belonged to the rehearsals of his own jazz band. In 1954 he went with his band on a tour, first around Germany, then throughout Europe. But even as a full-time musician, Leo kept his sketchbook and water colors handy and whenever he could, he painted his surroundings and the people he met.
When the band finally returned to Berlin in 1958, a gallery owner saw his works and offered him a show. The exhibition was a smash hit: all of the exhibited works sold in the first 3 days and one of the enthusiastic critics saw in him "the most promising young artist of the postwar German avant guard". Other artists would have enjoyed the sudden success and tried to build a future on it, but Leo always needed new challenges -- and so in 1959, with the money he made, he landed in New York to conquer to new world.
He hoped to find a publisher for his work, or a gallery that would give him an exhibition, but in vein. He was new and unknown, with a strange, unpronounceable long name. For months he hung around jazz clubs, relieving now and then the pianist or the trombone player, while painting the musicians in their typical movements and poses. The patrons loved his pictures and invited him to drinks, but did not buy art. When he finally ran out of money, he joined a band that had an offer to play in New Orleans.
At the "birthplace of jazz" Leo found his new home - and his artistic aspiration forever. Beside jazz he discovered here another favorite subject of his: he ventured into the kitchens of Bourbon street restaurants and captured the grand expertise of the Creole chefs' and their culinary creations. His sketches, originally black and white, became more and more vibrant and exaggerated, giving new dimensions to his free and lucid style. At the beginning, Leo just gave away his paintings to his musician friends as a present, but very soon they became known and popular in New Orleans and the galleries of the French quarter started looking for the source of these images and placed orders with him.
Gradually his paintings brought in more money than his music – and Leo switched again. The professional musician, who painted on the side, turned into a full-time painter, who only played music for relaxation. He showed up wherever jazz was played and pulled out his sketchbook. While travelling back and forth between New York and New Orleans, he met and befriended the biggest jazz artists – Duke Ellington, Miles Davis, Dizzy Gillespie, Earl Hines, Woody Herman, Gene Krupa, Lionel Hampton -just to name a few, who all loved his art and very soon he was asked to design record covers for chiaroscuro and several other famous recording companies.
In the late seventies Leo met Stefan and Ida Gommerman as they just opened their Eva and Steve Dorog gallery in West Hollywood, California and they put two of his paintings in their show window. The response of the gallery customers was so enthusiastic, that SIG FINE ART art was founded, to publish Meiersdorff's work under a worldwide exclusive contract.
SIG FINE ART published, in addition to posters and limited edition lithos, the only Meiersdorff serigraphs (silk-screens) ever made ("The Jazz Birds","Gumbo Special" "First Lady of Jazz" "the trio") the Gommerman's advertised him in all major art magazines, arranged shows for him and exhibited his works at the art expos around the country.
In the early 198os, when the 3-dimensional (cut out art) came into fashion, Stefan, himself an artist, (Gomy) was intrigued by this new art form and wanted to bring some of Leo's joyous characters to 3 dimensional life. Leo loved the idea and designed a special line of black and white images, to be colored by hand and used for the Gomy 3-d-s. Gomy has later developed his own 3-d style, but his first works (the most musical and culinary images) are basically Meiersdorff's in 3 dimensions, and were a big hit from the very beginning.
Though Leo loved his expressionistic works, his commercial success and the ever-growing demand for his culinary and musical images left him little or no time for his very rare genre and landscape paintings. He was overloaded with commissions and his joyous characters popped up everywhere: from vine labels , restaurant menus and record covers, to backdrops for the biggest TV jazz shows and jazz festivals.
When Meiersdorff attended the international children foundation exhibition in Stockholm, (for which he designed the posters), he met the king and queen of Sweden and they turned out to be collectors of his work and he was invited to the palace. When Miles Davis received his lifetime award at the Grammys, one of Meierdorff's paintings was blown up and projected on a background screen. Woody Herman commissioned him to paint a 60 feet long mural for his studio and SIG fine arts had a standing order from the late composer genius Henry Mancini for every new Meiersdorff release.
GUARANTEED TO BE 100% ORIGINAL AND GENUINE WITH C.O.A.






Powered by eBay Turbo Lister


Pay instantly with your debit or credit card through PayPal.