---
"Southwold Bay" by Terence Vickress (now sold 24/4/11)
£850.00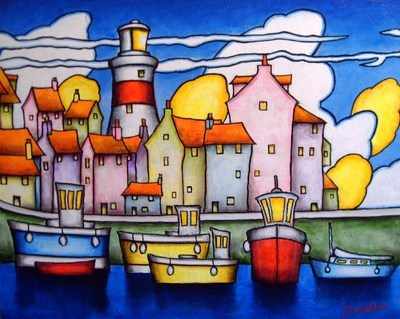 BEAUTIFUL ORIGINAL ACRYLIC ON CANVAS
"Southwold Bay".
BY THE SUPERB PORTRAIT ARTIST TERENCE VICKRESS. .......................... This beautiful unusual painting of the Seafront and Lighthouse in Suffolk's Southwold
!!

"Southwold Bay" by Terence Vickress


Measurements height 24 inches by 30 inches. Acrylic on canvas........... Box Framed.
Ref only; asgard-arts.com



T
erence Vickress

the Artist was born 1955, Rochford, Essex. Now living and working in Southwold, Suffolk. Vickress trained at Southend

Art School

studying illustration to sculpture. Terence ultimately made the transition from illustration to portrait painter
and enjoys the freedom of painting fine art, landscape, Seascapes, Traditional scenes and nudes. Among the many commissioned portraits are many celebrities including the Boxer FRANK BRUNO, Michael Schumacher, 5 Secretary Generals to The

Commonwealth

Parliamentary Association

including Sir Howard D'Egville K.B.E LLD, unveiled 1992, Arthur Donohue Q.C, Dr the Hon David Tonkin, Sir Robin Vanderfelt all hung in secretariat offices in old palace yard Westminster !!
Numerous other famous Portraits. Mayors including in 1994 Howard Griffin, Henry Strode, Founders of the Company's College in egham (Members of the Worshipful Company of Coopers)Mayor Councillor Joe Tobin, The Worshipful the Mayor Councillor Allan Cole, Ann Bettes, Theresa Baggot, The Lord Mayor of Cambridgeshire Crowden, Lord Lieutenants and

Members

of Parliament

including SIR TEDDY TAYLOR MP. Terence has many of his works in Public collections including

The Palace of Westminster

,

London

.

Many Parliament Buildings

in

British Columbia, Canada

. Also The

House of Keys Parliament Building

, The Tynwald including the Hon Charles Kerruish OBE. LLD (hc) CP,

Isle of Man

. Porters Grange Museum, Essex. The Hall of Mayoral

Portraiture

,

Cambridge City

.

Also now the Town Hall

, Southwold, Suffolk. Also the Speaker of the house of parliament in Canada George McMinn Q.C

GUARANTEED TO BE 100% ORIGINAL AND GENUINE WITH C.O.A. 100% GOLD POWERSELLER.