---
"Cernunnos- The Stag Lord!" by Penny Clandon S.W.A (now sold)
£550.00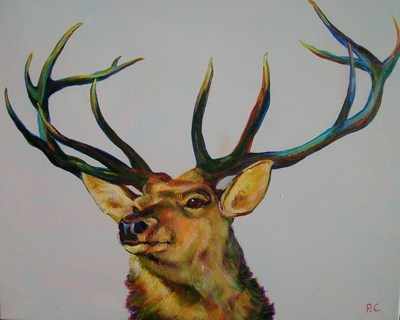 LOVELY ORIGINAL OIL PAINTING "Cernunnos- The Stag Lord!". Illustrating the Celtic God Cernunnos or the horned one. Cernunnos could take the form of a handsome Stag !!
The Song of Cernunnos
I am a stag of seven tines,
I am a wide flood on a plain,
I am a wind on the deep waters,
I am a shining tear of the sun,
I am a hawk on a cliff,
I am fair among flowers,
I am a god who sets the head afire with smoke.
I am a battle waging spear,
I am a salmon in the pool,
I am a hill of poetry,
I am a ruthless boar,
I am a threatening noise of the sea,
I am a wave of the sea,
Who but I knows the secrets of the unhewn dolmen ?
Origin obscure but certainly Celtic


................... BY THE SUPER ARTIST PENNY CLANDON. S.W.A. ............( Penny is S.W.A which is an extremely prestigious Society) Measurements height 16 inches by 20 inches Oil on Canvas. Sold Box Framed...........
Penny Clandon S.W.A was elected into the Society of Women's artists some six years ago. Since then she has exhibited six of her pastels at their annual Art Exhibitions at Westminster Central Hall Gallery in London. She has also exhibited at the Society of United Artists' Annual Exhibition. Other exhibitions displaying her work have been The Pastel Society and The Buckinghamshire Art Society. The President of the Societe des Patelistes de France, Jean-Pierre Merat, invited her to exhibit her work at the Society's Exhibition at Fontenay, France. Penny's favourite medium is normally pastels but now living between the U.K and France she now paints in Oils and Acrylics. . GUARANTEED TO BE 100% ORIGINAL AND GENUINE WITH C.O.A 100% GOLD POWERSELLER