---
"Carrosse." by Raoul Dufy (now sold 18/09/14)
£17,500.00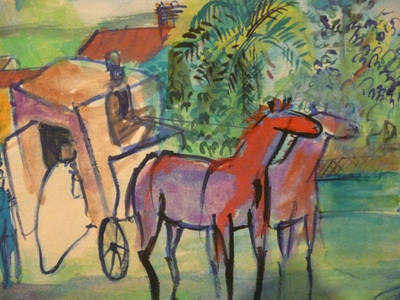 This is a superb original Painting "Carrosse" by Raoul Dufy. The painting is a beautiful illustration of a horse scene and Coach! (Carrosse) Quite exquisite!!! With excellent Provenance once owned by Jacques O'Hana from the famous O'Hana Gallery in Mayfair. Jacques O'Hana was a well respected authority on French Art owning numerous original Renoirs, Vlamincks, Vuillards, Sisleys and Monets. His Gallery was famously robbed in 1962 with over half a million stolen equating to £4 million today!!!!



Title: "Carrosse"
Artist: Raoul Dufy
Medium: Watercolor on paper.
Signed: Raoul Dufy (lower left); with the atelier stamp (Lugt 702f; at the reverse)
Signed Raoul Dufy
atelier stamp (Lugt 702f; at the reverse)
Provenance; Full Provenance with 2 signed documents of Authentication including Certificate of Authentication! See below
Measurements
Watercolour Painting.
14.6 cms x 20.5 cms .
A Raoul Dufy painting "La Foire Aux Oignons" (1907) sold recently for more than £4 million, half a million more than its high estimate at Sotheby's New Bond Street Auction house for £4 million!!!!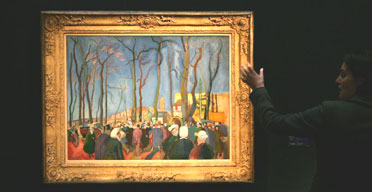 "La Foire Aux Oignons" (1907) by Raoul Dufy



Provenance for "Carrosse" by Raoul Dufy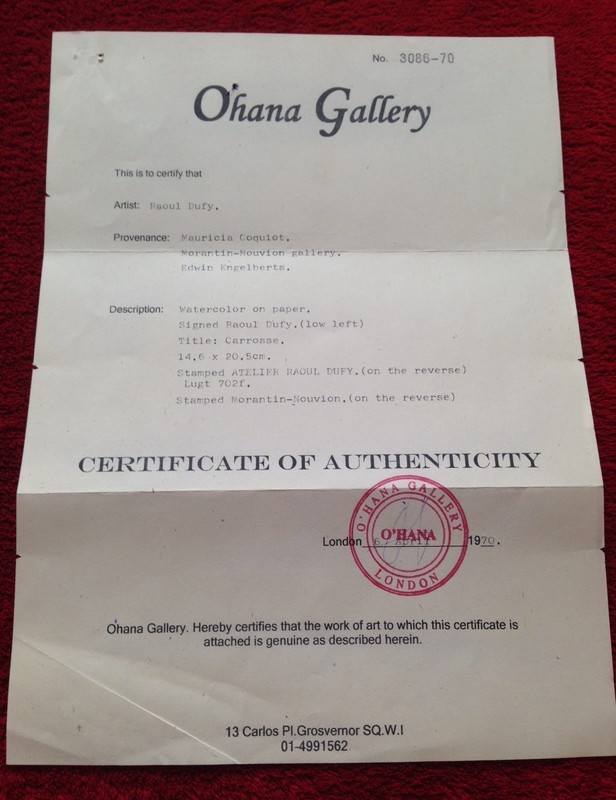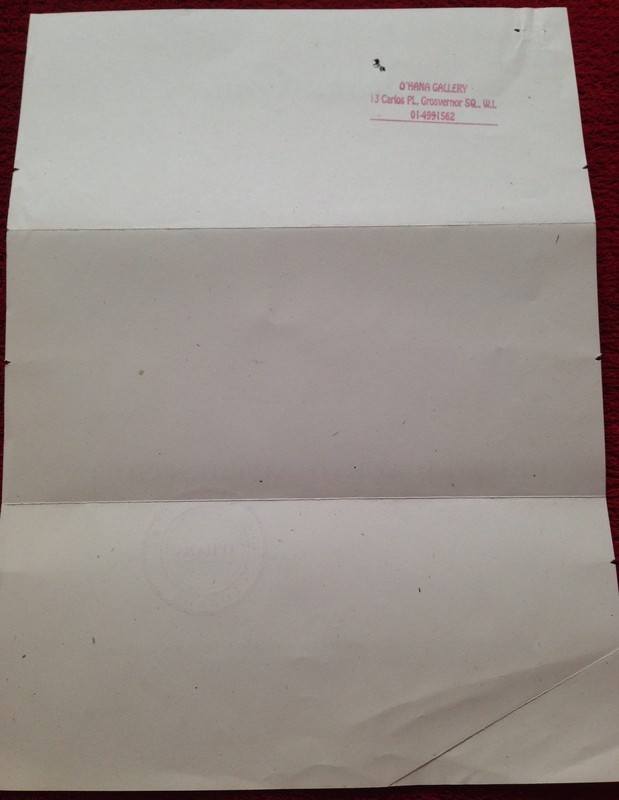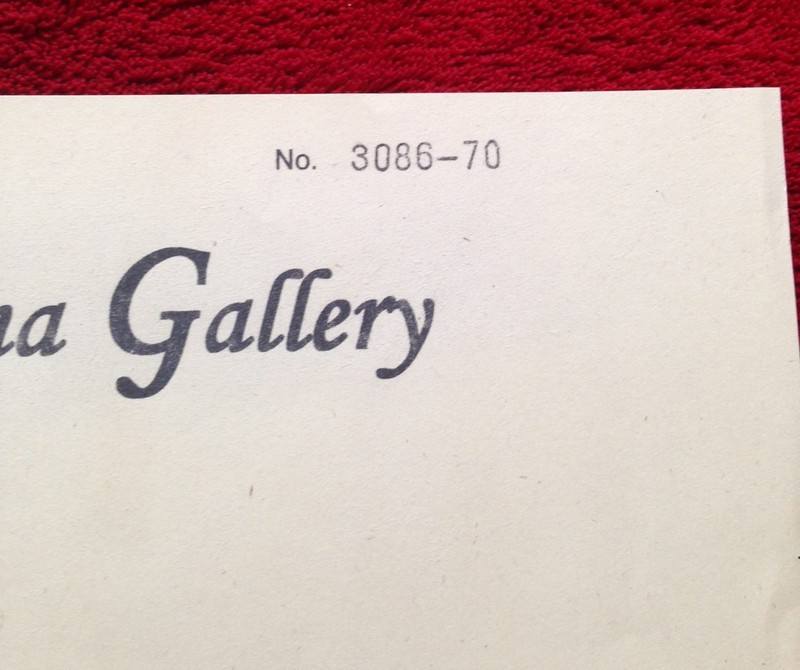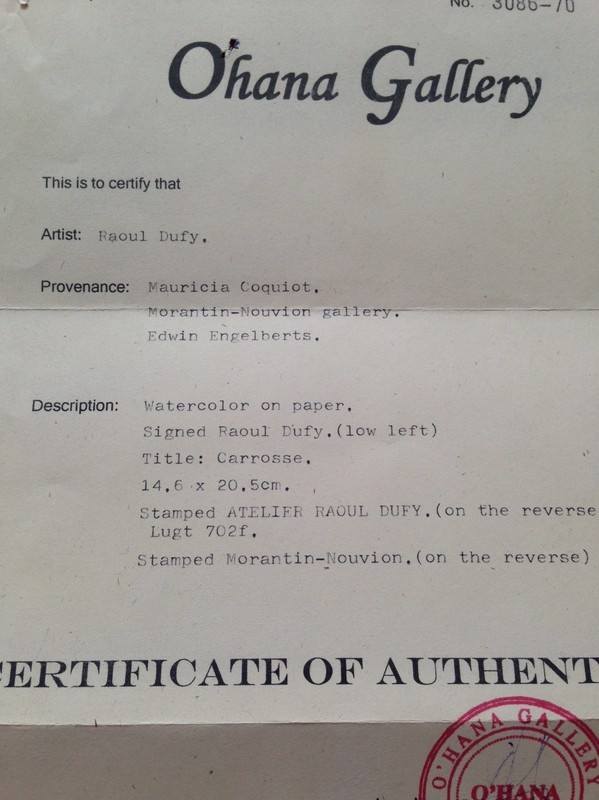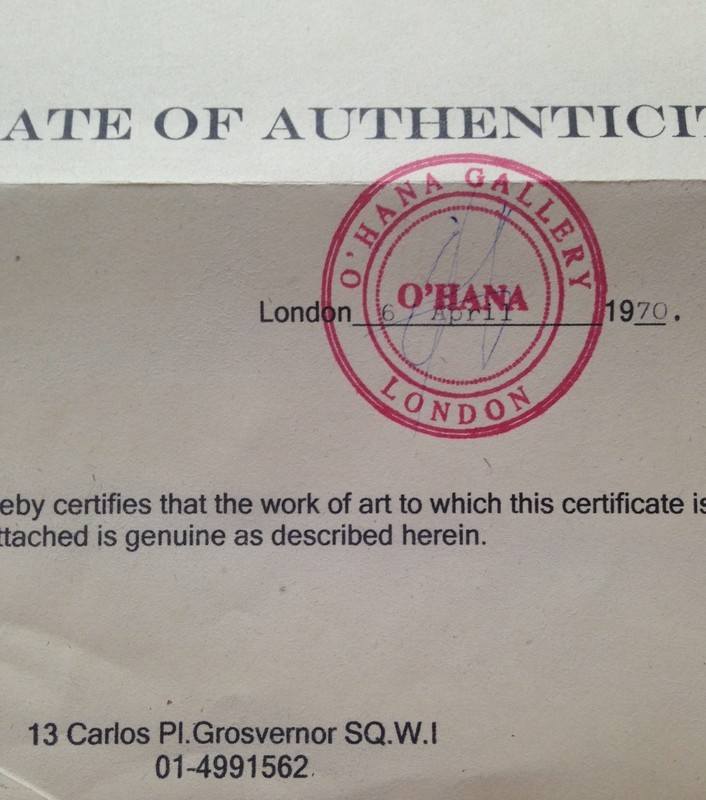 Signed by Jacques O'Hana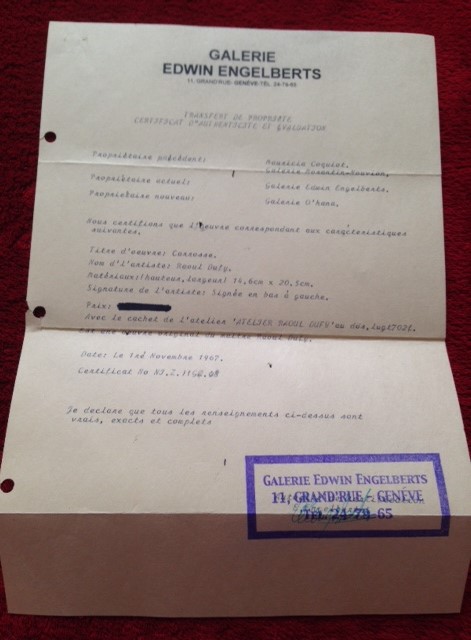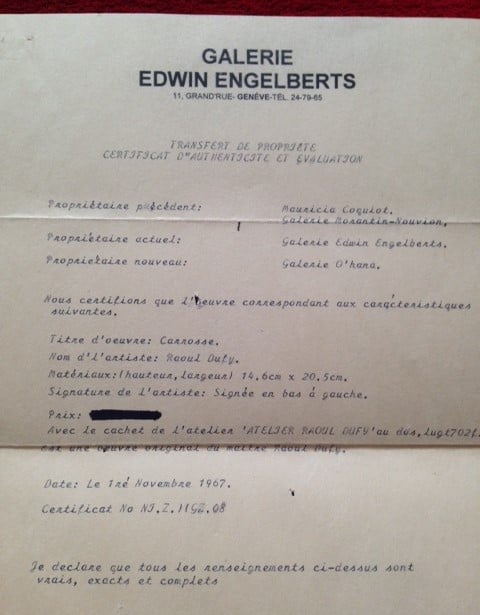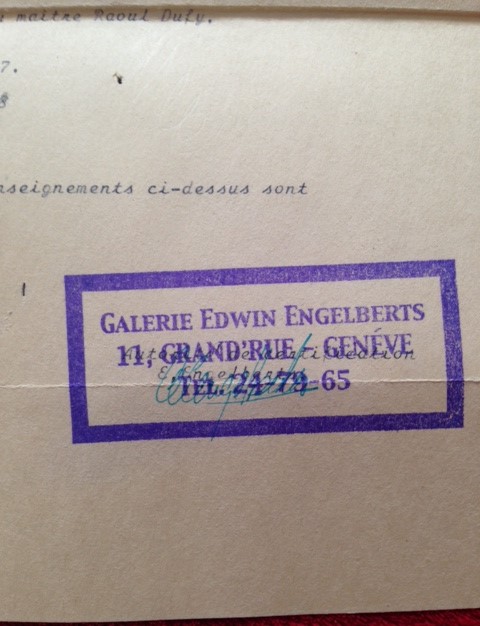 Raoul Dufy (3 June 1877 – 23 March 1953) was a French Fauvist painter. He developed a colorful, decorative style that became fashionable for designs for ceramics, textiles and decorative schemes for public buildings. He is noted for scenes of open-air social events
Dufy's cheerful oils and watercolors depict yachting scenes, sparkling views of the French Riviera, chic parties and musical events. The optimistic and fashionably decorative and illustrative nature of much of his work has meant that his output is less highly critically valued than artists who treat a wider range of social concerns.

In 1938, Dufy completed one of the largest paintings ever done, a huge and immensely popular epic to electricity, the fresco La Fée Electricité for the Exposition Internationale in Paris.

Dufy also acquired a reputation as an illustrator and an applied artist. He changed the face of fashion and fabric design with his work for Paul Poiret. He painted murals for public buildings, and produced a prodigious number of tapestries and ceramic designs. His plates appear in books by Guillaume Apollinaire, Stéphane Mallarmé and André Gide.

Dufy died near Forcalquier, France, on 23 March 1953, and was buried not far from Matisse in the Cimiez Monastery Cemetery in Cimiez, a suburb of the city of Nice, France.